With the festive season soon upon us, it'll be time to start getting those Christmas lists ready. This year, for a truly special gift, why not give a personalised pressie to that special someone
If you're stuck for ideas for bespoke gifts, take a look at some of our suggestions below.
1. Gift hampers
Nothing says pure indulgence quite like a beautifully presented hamper.  If you're crafty, why not put together a homemade gift basket with some of their favourite things?
Or if you'd rather leave it to the professionals, try some of our stunning gift hampers.
 We've got a wide selection to suit different tastes.  Our hampers contain award-winning wine, savoury and sweet treats that are sure to please the pickiest of taste buds. All the hampers also come with a special message card for that added personal touch.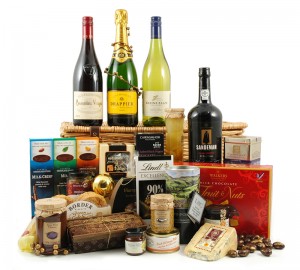 2. Gift an experience
If you're looking to go beyond the usual shopping vouchers, you could try organising a memorable experience for them. Does your better half love the thrill of high speed driving? If the answer is yes, then you could gift them a day of driving fun. They'll love the experience of being able to drive world famous cars on some of the country's best racing circuits. Looking for something a bit more relaxing? Plan a pampering day out for them at a luxury spa or health club. Create a customised experience that could include beauty treatments and massages along with lunch for a truly luxurious gift.
3. Personalised picture gifts
Here's a cost-effective way of creating a really individual gift. Few things are quite as personal as a picture of a loved one and there's plenty of options to make beautiful gifts from a photo.   Grandparents will love a bespoke calendar made from some of their favourite pictures of the grandkids and new parents could have their little one's picture on their mobile phone covers.
4. Personalised football gifts
Looking for the perfect gift for the footie fanatic in your life? Get them a stylised photo that will feature them alongside their favourite team players in the dressing room. You could also get them to star on the cover of their favourite club's magazine as its latest star signing, or gift them a free tour of their favourite stadium. 
5. Personalised golf gifts
Is there an amateur golfer in your family or circle of friends? There's some great ways to personalise golf gifts for any Tiger Woods wannabe.  Give them a set of personalised golf tees with their name engraved on the tee. You could also get vouchers for a session on the putting green or a plush leather golf score card holder to help them keep track of the par score.