It's fair to say the British summer has been playing its usual tricks this year. After a positive start back at the beginning of June it spluttered its way through July and into August with a typical mix of sun, rain, clouds and quite a bit of wind, too.
No wonder we love to talk about the weather here – we do get a lot of it!
Take advantage of the next sunny spell
We're not going to make any predictions about when the next spell of good weather will arrive, but we do think it pays to be prepared. And that's why we've just added a brand new hamper to our range: the picnic food hamper.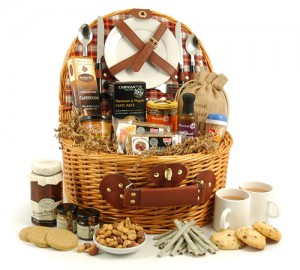 Containing everything you need for an impromptu picnic, when you buy this hamper you'll be able to grab it and go next time the sun shines. Or you can give it to someone special, of course – it's entirely up to you.
Retro picnic basket style
Continuing the trend for retro picnic baskets, this one contains both the food you need for a successful picnic, plus cutlery and crockery to serve it up in style. In fact, it's just right for a romantic day out with someone special.
And to coin a cliché, it's a gift that keeps on giving. Once you've got through all the delicious stuff inside (it includes oatcakes, pickle, nuts and other tasty items) you can reuse the basket. The high quality crockery will last for years too.
Available from our online shop
This luxurious picnic hamper includes everything you need for a delicious outdoor feast. If the weather looks good and you need a picnic hamper fast, call us to see if we can arrange next day delivery!