Nothing says summer better than a picnic…
Just picture yourself basking in the sunshine while you and your friends tuck into a sumptuous array of goodies, not a care in the world as you relax in the warmth of the sun and the gentle buzz of conversation floats around you. Perfect…
Because we know the perfect picnic is a quintessential part of summer, we carefully select every item for our picnic hampers, so that you get the full summer experience. From classic edible delights to award winning beverages, your picnic will be one you'll never forget.
As our gift to you, you can enjoy any of our picnic hampers for 10% Off until June 7th. Just use the code PICNIC10 when buying online.
Picnic Food Hamper For Two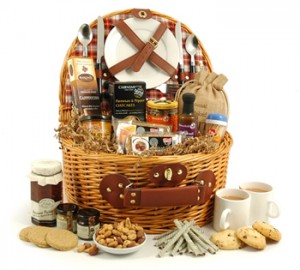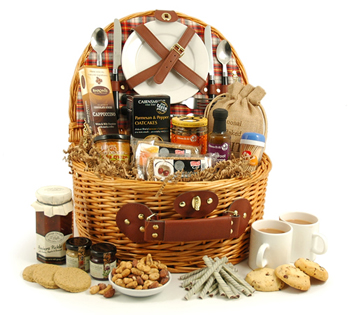 Packed full of award winning, irresistible goodies for the perfect outdoor feast, this hamper is fantastic to share with that special someone. Housed in an adorable retro-feel wicker basket complete with cutlery and crockery, this hamper has it all, meaning you can just grab and go. No paper plates needed!
Luxury Hamper For Two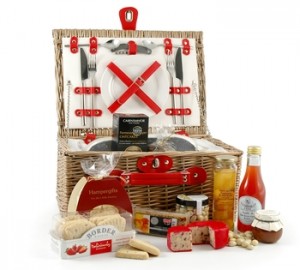 You will love this antique-wash chiller hamper that's crammed with superb summer treats. The cherry red straps secure two sets of cutlery, and a pair of ceramic plates, perfectly offsetting the retro tones of the wicker. We've lovingly paired a sublime, award winning Mature Cheddar with Cranberries with a fantastic Cheese Makers pickle. With a mouth-watering array of cranberry & pumpkin biscuits, Parmesan oatcakes and unusual yoghurt coated nuts to enjoy, this hamper is a must-have for the perfect lazy afternoon in the sun. The handy zipped chilled compartment will keep the pure pressed Blackcurrant & Apple Juice at just the perfect temperature!
Luxury Picnic Hamper for Four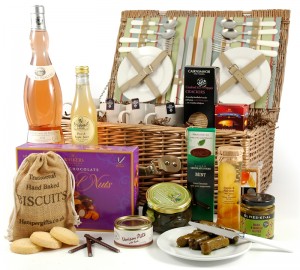 This beautiful wicker picnic basket has everything you need for a proper family picnic, or a day out with friends. The classy, timeless design looks great, housing a selection of luxurious treats. We've included all the food you need so all you need to do is sit back, and enjoy the vast array of goodies. Indulge your taste-buds with pâté, crackers, olives, fruits in syrup and stuffed vine leaves, crack open the stunning, award-winning Rosé wine – or have an afternoon snack of cookies and English tea. Complete with plates, cups and cutlery for four people, this hamper brings a touch of luxury to al-fresco dining.