Yuletide: a time for indulging on delicious treats, festive food and wonderful wines. This Christmas we have them all wrapped up together, in the form of our delicious Luxury Christmas Wine Hamper and Yuletide Delight. This is your last chance to win one of our exquisite hampers before Christmas, so whether you're after that one last present, or simply want some naughty treats to share with the family, try your chances and enter today!
Luxury Christmas Wine Hamper 
Jam-packed with festive goodies, this luxurious wine hamper's main attraction is its award winning wines. If you're partial to a fruity Australian Shiraz or a zesty Chenin Blanc, this hamper is definitely for you. Of course you'll need some delicious food to go with that, but look no further; Brandy Christmas Pudding, Cottage Delight Lemon Curd and Chocolaterie Diane White Chocolate Pralines are all nestled inside this brimming heavenly hamper.
Click here to check out the full contents of the Luxury Christmas Wine Hamper.
Yuletide Delight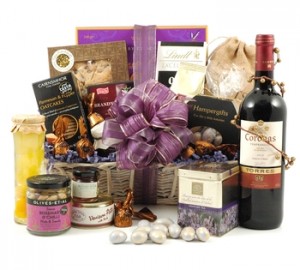 Enjoy the rich, smooth Spanish Tempranillo that takes centre stage in this hamper. It can be perfectly paired with Cottage Delight Smoked Salmon Paté and Cairnsmhor Parmesan & Pepper Savoury Oatcakes for a pre-Christmas treat. If you want to leave a snack for Santa, our White Chocolate & Raspberry Cookies will tempt him down your chimney. You'll find the Fresh Ground Breakfast Coffee a winner for keeping you awake after your early Christmas start.
Click here to check out the full contents of the Yuletide Delight.
How to enter the competition
Entering couldn't be easier! Just take these two simple steps:
Select your choice of hamper with the Rafflecopter widget below.
Complete your entry by leaving a blog post comment explaining why you deserve either the Luxury Christmas Wine Hamper or the Yuletide Delight.
The competition will close at 12 noon on Monday 21st December 2015. One winner will be selected for each hamper.
Good luck!
Click here to see our full range of Christmas hampers.