With winter well and truly here, it's time to stay indoors with a big plate of your favourite comfort food. Whether it's a hearty stew, a delicious pie, or a chunky rustic soup, nothing quite warms the cockles like a piping hot winter meal.
So, curl up in your favourite chair and read through our  top winter warmers and see which one catches your fancy.
Cottage Pie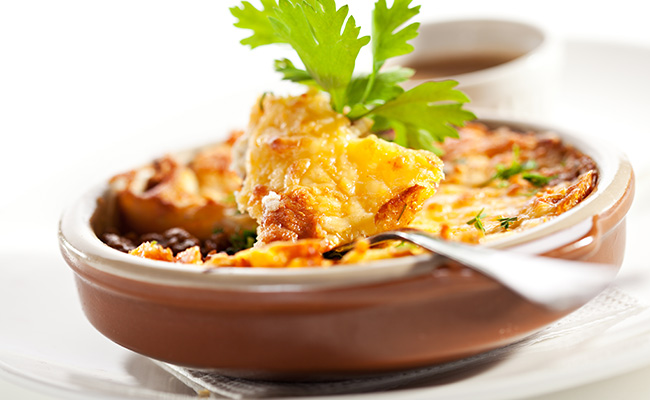 An undeniable classic, nothing comes close to digging into a piping hot plate of cottage pie. Soft, golden, fluffy mash blanketing a delicious, meaty filling is a must have in the cold winter months.
What You Need
Filling:
1 kg of minced beef
2 finely chopped red or white onions
2 celery sticks chopped into chunks (You can finely slice these if you prefer)
3 chopped carrots
1 tablespoon of tomato puree
1 teaspoon tomoto ketchup
840 ml beef stock (if you prefer a lighter taste, you can use chicken stock
4 tablespoons of Worcestershire sauce
3 tablespoons of olive oil
3 tablespoons of plain white flour
Mash:
1.6 kg Potatoes
200ml milk
20g butter
How To Make:
In a large saucepan, add 1 tablespoon of olive oil and fry the minced beef until browned. In a separate pan, add the rest of the oil and cook the onion, celery, and carrot and cook on a gentle heat until they're soft. Add the tomato puree, ketchup and flour on a higher heat for a couple of minutes, stirring well. Add the browned mince and stock, along with the Worcestershire sauce. Bring it to simmer and cook for 40-45 minutes, checking that the gravy is thick. If you feel the mixture still has too much liquid, turn up a heat a little and reduce the gravy until at your preferred thickness or until the meat is coated well.
Mash:
Place the potatoes in a large saucepan and cover it in cold water. Boil the potatoes until soft. Drain and allow to dry. Add milk and butter and mash until creamy and soft.
Add the filling to an ovenproof dish. Spoon or pipe the mash and sprinkle with cheese if desired. Heat the oven to 220c or 200c fan assisted /gas 7 and cook until topping is golden brown.
Apple Crumble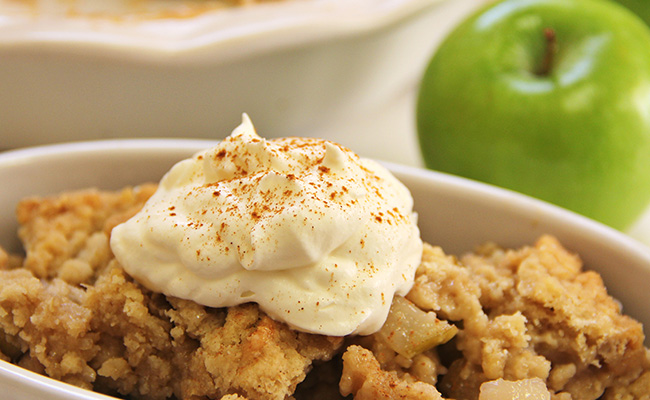 Quick, easy and mouth wateringly tasty, apple crumble is the go to dessert when you're really craving something sweet and satisfying. Topped off with a dollop of custard or cream, this humble dish is chock full of comfort.
What You Need:
The Filling:
450g apples, peeled, cored and chopped into small pieces.
1 tablespoon of plain white flour
40g of brown sugar
A sprinkle of cinnamon
The Crumble Topping
300g of plain white flour
165g of brown sugar
190g of butter (unsalted) and cut into cubes
How To Make:
In a large mixing bowl, add the flour and sugar and slowly rub the cubes of butter through the mixture using your fingertips. Continue to do so until it resembles crumbly breadcrumbs.
Make sure your oven is preheated to 180c/350c fan assisted/Gas 4
Stir the apples, cinnamon, sugar and flour together and add to a butter greased ovenproof dish. Sprinkle the crumble on top and bake for approx 40 to 45 mins. The crumble should turn a golden brown.
Add a dollop of custard or cream when serving and enjoy!
Butternut Squash Soup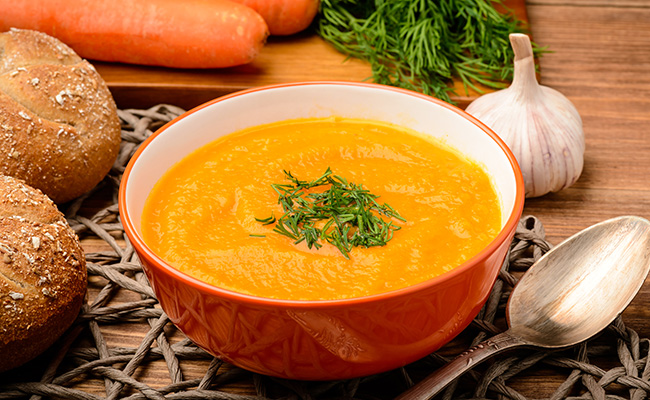 Sweet, tasty and perfectly heart-warming, this soup is a must have for a cold winters day. Packed full of vitamins and super easy to make, butternut squash soup is one of our most favourite comfort foods. Accompanied by a slice of home-made bread, this surprisingly simple soup makes a perfect lunchtime treat.
What You Need
1 large butternut squash cut in half
1 clove of garlic chopped
2 red onions
1 large carrot, chopped
1 teaspoon of smoked paprika
1 tablespoon of olive oil
1 chicken stock cube – 1 litre of water
Ground black peppercorns
How To Make:
Remove seeds from the halved butternut squash. Place each half in a roasting tin and cook in the oven for an hour at 150C or gas mark 5 until squash is soft and tender. Remove from the oven and leave to cool.
Heat oil in saucepan and add the onion, carrot and chopped garlic and cook until soft. Scoop the flesh from the butternut squash halves and add to the saucepan, stirring gently. Add the chicken stock cube, paprika and one litre of water, stirring until dissolved.
Bring to the boil and simmer until the vegetable are soft and tender. Add cracked black pepper and stir gently.
Remove from the heat and allow to cool for approx. 15 minutes before blending.
Reheat and serve with a big slice of rustic bread!
How about afters? We all love sneaking back to the kitchen for a quick nibble, so why not browse our wonderful selection of Christmas hampers which are packed with lots of decadent delights that will satisfy any snack cravings.