Wine giving: it's a very tricky thing to get right, especially when the recipient has some expertise. Not much gets past their delicate taste-buds, and you can't present them with a wine that's less than exceptional. But you want to give them a wine gift that not only appeals to their passion, but gives them a new experience. Inspire them with one of our carefully selected wine gifts and take the stress out of finding the perfect gift.
We've put together some of our top wine gifts and hampers that will excite the recipients inner sommelier!
Treat your friend to an award winning red wine that features a full, fruity flavour. The silky notes of ripe fruit and ginger intertwines with the smooth tang of red liquorice. This beautifully intense wine has been matured in large oak barrels over 16 months to produce a unique flavour that will enchant your senses. This charming wine gift is presented in an old world style hardwood case complete with brass latches and handles.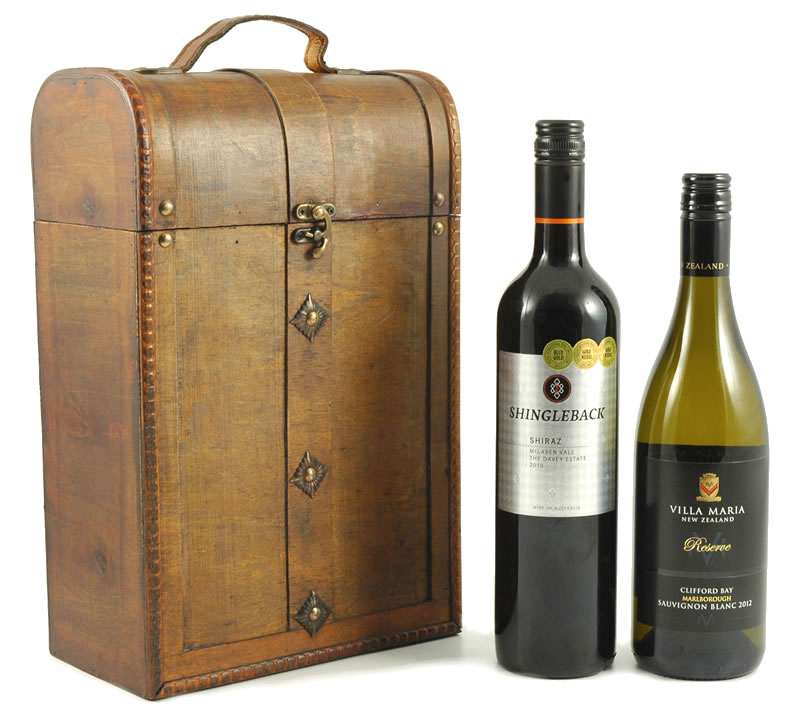 This stunning duo is one of our popular wine gifts for the friend who loves the finer things. The superb Villa Maria delivers intense flavour, capturing the story of it's beginnings. The grapes were matured in the warm sea breeze, thus creating this vibrant concentration on the palate. Coupled with the fruity Shingleback that sings with a chocolate and violet note, this pair is bound to impress. These award winning wines are presented in a hardwood case with brass latch and handle. They pair wonderfully with a wide range of dishes for some al freso dining.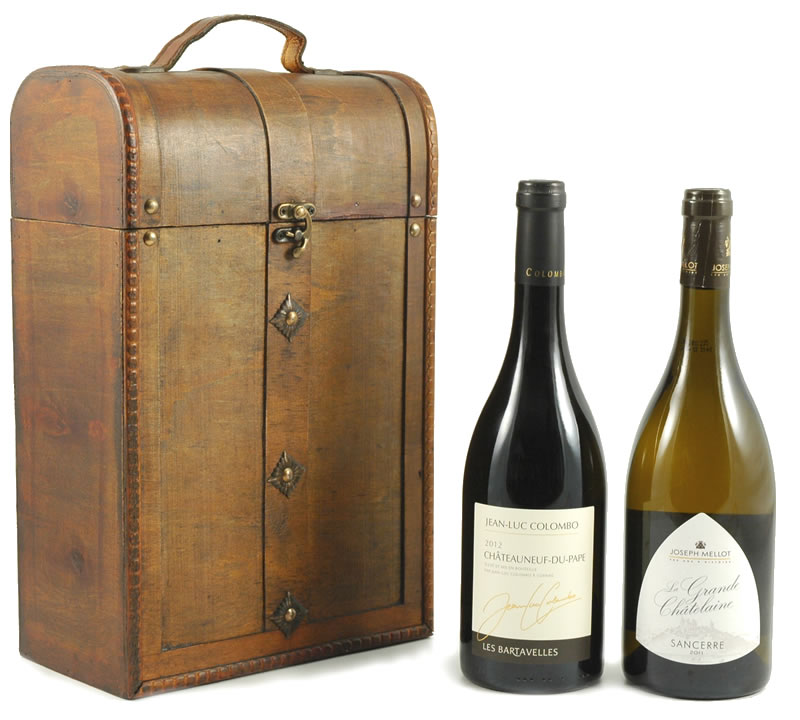 Deliver this stunning wine gift to your friend and watch their face light up with delight. The Châteauneuf-du-Pape kisses the taste-buds with a medley of silky flavours like ripe fruit, liquorice and gingerbread. The Sancerre brings a tangible elegance with its intricate flavours and complex palate like candied grapefruit, lime zest and pineapple. Have this wine gift delivered straight to their door, knowing that they are about to un box a tasting extravaganza. The hardwood wine case houses each bottle beautifully, keeping them snug and protected for the big reveal.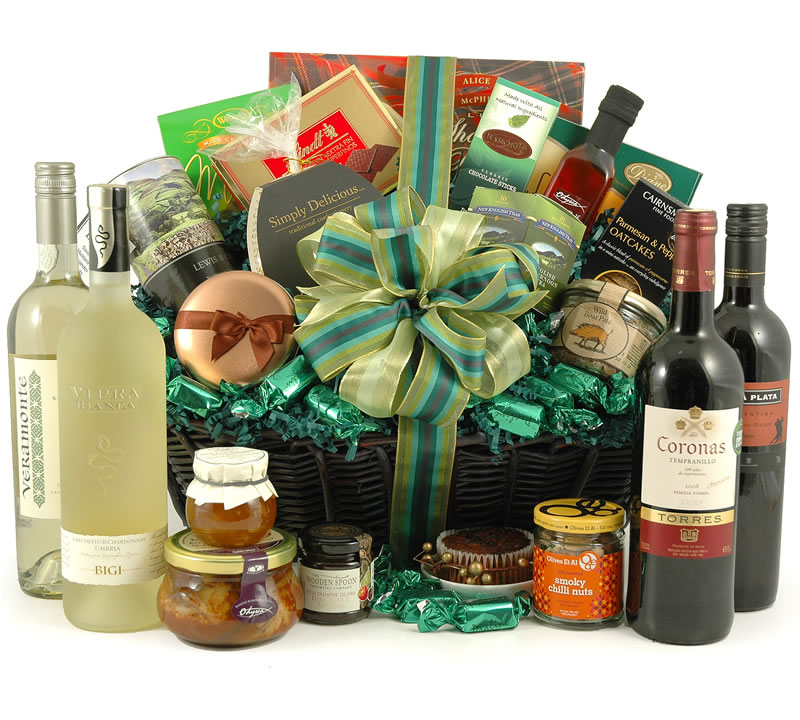 If you're looking for wine gifts with something extra special to complement a red and white, then the Grande is a fantastic choice. Full of award winning wines nestled among a medley of mouth-watering treats, this wine hamper is bound to impress. If you're lucky, they might even share some with you! Indulge the wine lover in a feat of delicacies that perfectly pair with each red and white, like Biscuits, Fruit Preserves, Chocolates, Nuts, Cake, Tea and many more.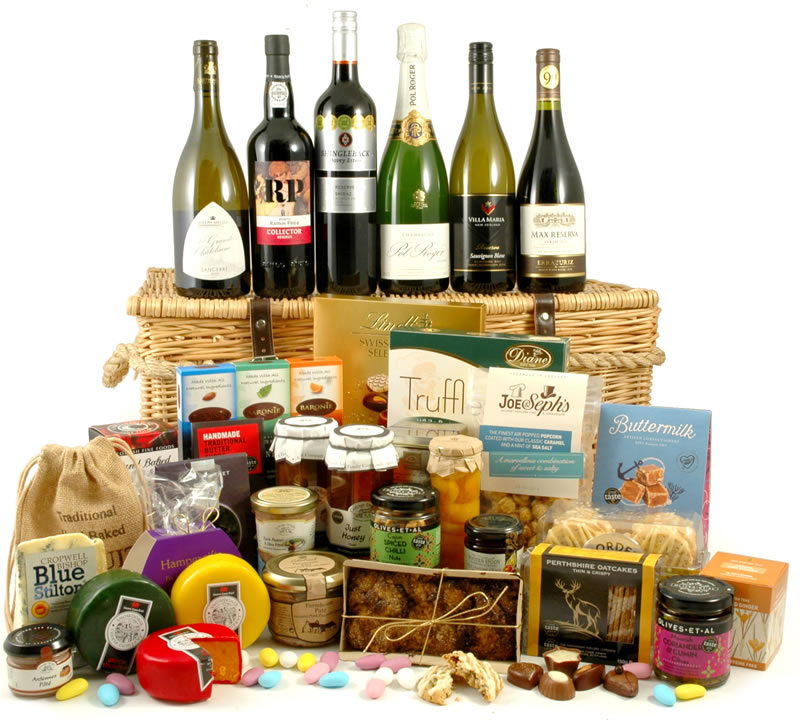 An absolute showstopper, this hamper has it all. Not only does it contain a fantastic selection of award winning wines to impress even the most experienced connoisseur, it will also sweep any foodie off their feet. The selection of award winning gourmet treats include medal-winning cheeses, a trio of pâtés, Belgian chocolates, nuts, honey, crackers, chutney, gourmet biscuits and much more to discover. All housed inside a re-usable wicker basket, this wine hamper will capture the heart of the wine lover and food lover alike. After all, what makes a fine wine even better? Food of course!
Still looking for fine wine gifts? Browse through our fantastic selection and find the perfect one for you. Our Wine Hampers might just have something for you too if you like something extra with your fruity red, or crisp white.