In the UK when the sun's shining and the swallows are swooping, Christmas seems a very long way off. But think of our friends and family over in Australia, New Zealand and South Africa, where their December 25th Christmas comes round slap bang in the middle of the scorching summer. If you've heard of Christmas in July, but don't know why on earth anyone would want or need an extra Christmas, read on to find out why the southern hemisphere Christmas in July event exists…
Why do Aussies need an extra Christmas?
A beach BBQ Christmas dinner, kids smothered in suncream, icy cold stubbies chilling in the cool box, with Santa surfing in red board shorts… It just doesn't seem right does it? That's where the English and Irish ex-pats in Australia came up with the idea of an alternative "Christmas in July" event, where they could enjoy a roast turkey, some Port and delicious Stilton with crackers, without worrying about the heat.
While most places in Australia don't get 'cold' like here in Blighty – in July it can be chilly enough to enjoy a bowlful of pigs in blankets dipped in gravy just like at home… followed by a delicious hillock of Christmas pudding, flaming under a splash of good brandy. (Is it just me, or is having an extra Christmas in July actually sounding better and better?!)
When did Christmas in July begin?
The exact details of the origin of the idea is difficult to pin down, but we do know that Brits living or travelling in Oz will enjoy a Christmas dinner and Christmas Tree, decorations and songs in July – and we'd like to wish them all a happy day reminiscing about Christmases past.
In the Blue Mountains in New South Wales in southern Australia, you might even find snow to accompany their annual July "Yulefest", where mince pies and party hats feature in their wintery celebrations.
Read more about the Blue Mountains Yulefest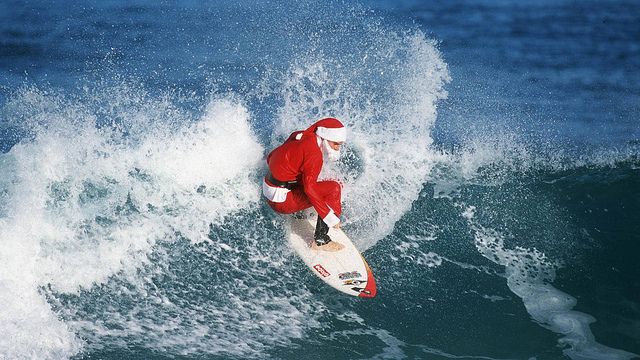 "Happy Christmas" to our Antipodean friends
Cheers to our friends 'down under'! While we aren't able to deliver our hampers outside of the UK, we raise a glass to you from warm and sunny England.
Sending hampers by post to friends and family in the UK
If you are in Australia or anywhere far from our shores, and want to send a hamper to friends and family in the UK, we hand pick and gift wrap every hamper, so we guarantee the 'wow factor' with every Christmas hamper we send out, making our Christmas hampers  the perfect gift in December. For the rest of the year, we have gorgeous gift hampers to suit every occasion.