Did you know that Christmas is only 23 days away? Looking for the perfect gift to get that special somebody? Or perhaps you want a great family gift that will have something for everyone. Or maybe you want to say thank you to a colleague for a year of hard work. Whomever the recipient, a hamper makes a wonderful gift to make them feel special.
In the spirit of Christmas, as our gift to you, we're giving away a hamper to two lucky winners. Enter our competition below to be in with a chance to win from a choice of a Christmas Tidings Hamper or a Christmas Treasures Hamper.
Good Luck from all of us at Hampergifts!
Christmas Tidings
Introducing the Christmas Tidings hamper. This beautiful gift basket is packed with festive goodies that are sure to delight that giftee. With such a wide range of tasty treats to choose from, there is something for everyone. Watch their eyes light up as they unearth fiery chilli oatcakes, chocolate coated honeycomb, mouth-watering fudge, Belgian liqueurs and more. Paired with the Grenache Merlot and delectable brandy Christmas pudding, this festive hamper is sure to impress!
Christmas Treasures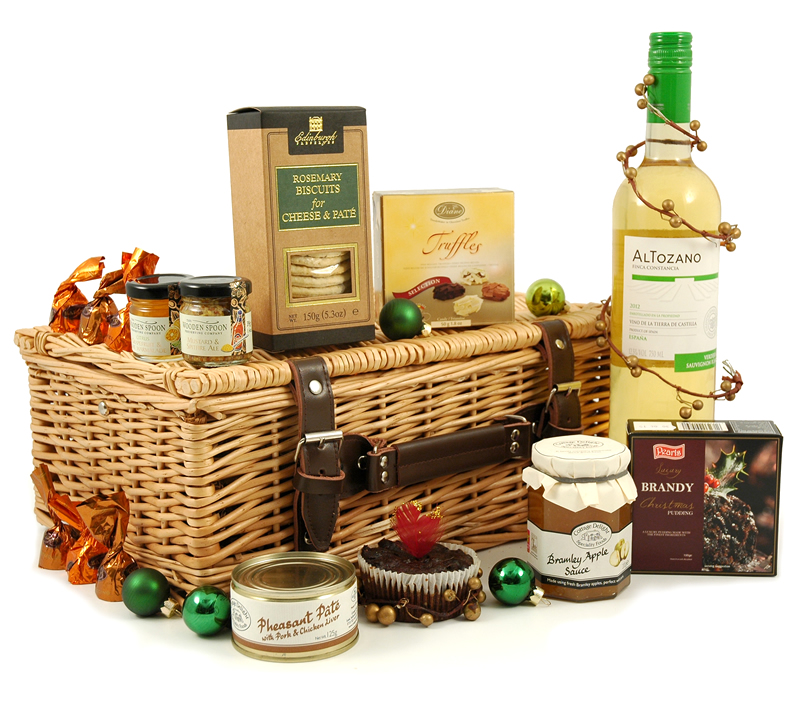 Just like its name, this festive hamper is a treasure trove of Christmas goodies. With velvety smooth smoked salmon pâté and savoury biscuits infused with rosemary, accompanied by award winning Spanish Sauvignon, Christmas Treasures delivers the richest, most sumptuous decadence. This beautiful classic wicker gift basket also houses a traditional brandy pudding, chocolate caramels, truffles and more, making it the perfect gift for somebody who loves to indulge at Christmas (and don't well all!)
How To Enter:
Entering couldn't be easier! Just take these simple steps:
Select your choice of hamper with the Rafflecopter widget below.
Complete your entry by leaving a blog post comment telling us what your favourite thing about Christmas is, and which hamper you would love to win.
The competition will close at 12 noon on Wednesday 7th December 2016. One winner will be selected for each hamper.
This giveaway is open to UK recipients only.