Thursday the 14th of October is Dessert Day! So we're showcasing all our favourite chocolate hampers for you dessert-lovers. Give them to a friend, colleague or loved one- or keep 'em for yourself. We won't tell! These are our best Dessert Day gift hampers.

Our best-selling chocolate hampers
This £60 hamper is a favourite for people who really want to impress. At 50cm tall, it's a huge gift hamper. It has loads of treats across all 8 gift boxes. These include award-winning butterscotch cookies, honey baked flapjacks, medal-winning sea salt & caramel fudge and Belgian truffles. There is also a selection of chocolate-coated Brazils, fruit cake, caramels, Sicilian lemon biscuits and after-dinner mints. But there's so much more too. The golden gift boxes make quite the impression – no matter where you gift this impressive tower.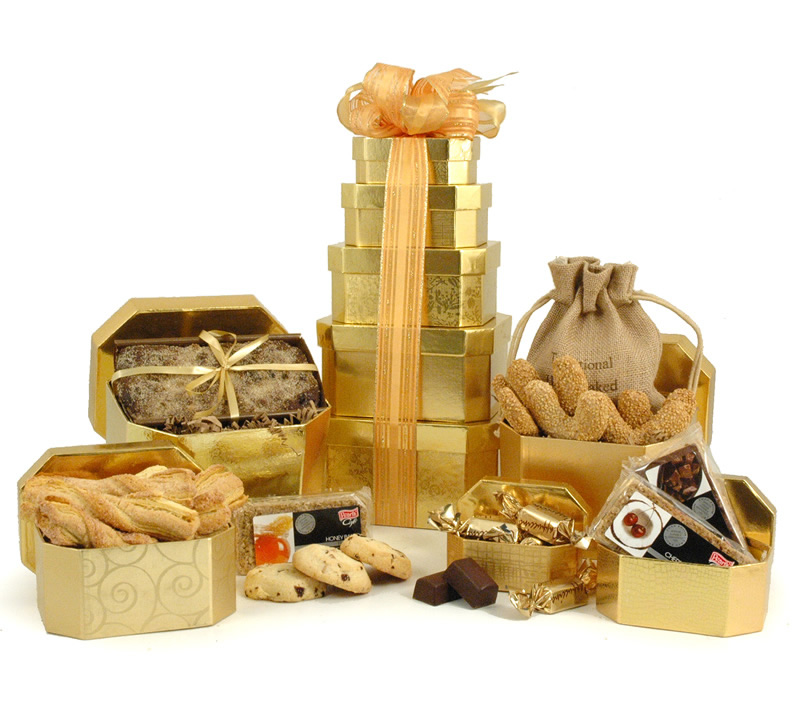 Baked goods are a year-long indulgence few can live without. And the Cookies & Cake Tower takes our love of oven-fresh treats and makes them accessible as a gift. Perfect for anyone in the office (and sure to be shared) the Cookies & Cake Tower is 34 impressive centimetres of goodies. They'll love the delicious flapjacks, fruit cakes and award-winning butterscotch cookies. (But maybe squirrel away the honey biscuits for yourself.) At £39.99, it's an affordable #dessertday treat.
A rose by any other name? Not this hamper. Gift the ultimate in chocolate indulgence with the Chocolate Heaven Hamper. The handmade wooden and seagrass basket is sure to get repurposed around their home and the selection is truly delightful. They'll enjoy Elizabeth Shaw Dark Chocolate & Raspberry Biscuits, Willies Cacao Chulucanas Gold Dark Chocolate and Lindt Excellence Mint Intense Bars, plus many more treats. We particularly love the Belgian Chocolate Hazelnut Praline Pieces; absolutely stunning. This gift is perfect for the chocoholic in your life.

Staff-favourite chocolate hampers
Admittedly, this is pushing the boat out a bit. For someone you truly love; however, the Pol Roger Champagne Hamper is a breathtaking gift. This champagne is world-renowned and a beloved favourite of the late, great Sir Winston Churchill. It's served in a hand-made wicker basket with a light wash and luxury bow. Pair the delectable champers with the included Lindt Lindor Assorted Cornet Truffles, Olives Et Al Kiln Roasted Harissa Nuts and Baronie Belgian Chocolate Caramel Pralines. It's a decadent experience your recipient won't soon forget.
Affordable and tasty. You can't go wrong with the cheerful Chocolate Lovers Hamper at only £32.99 – a bargain! It's packed to the brim in a fun red and white basket. They'll love amazing chocolate treats like Willie's Cacao Peruvian Hazelnut Raisin Chocolate, Dark Chocolate Coated Brazil Nuts and the award-winning Buchanan's Chocolate Russian Caramels. That's not all, either. There are a total of 7 delicious chocolate confections inside. And the gift basket is durable and reusable for home storage too!

Not sure if these are right for you or want something bespoke? Talk to our helpful team about your perfect Dessert Day gift today.