The best season of the year is getting closer, and we can't contain our excitement. We've seen Christmas trees in the shop windows already, so we have an excuse to celebrate early! We've put together a selection of our best Christmas hampers for 2018. We carefully hand select every item that goes into our Christmas gift baskets and towers so that the lucky recipient is getting the best of the best.
From food towers to gift baskets, our Christmas hampers have something for everyone. View the full range here.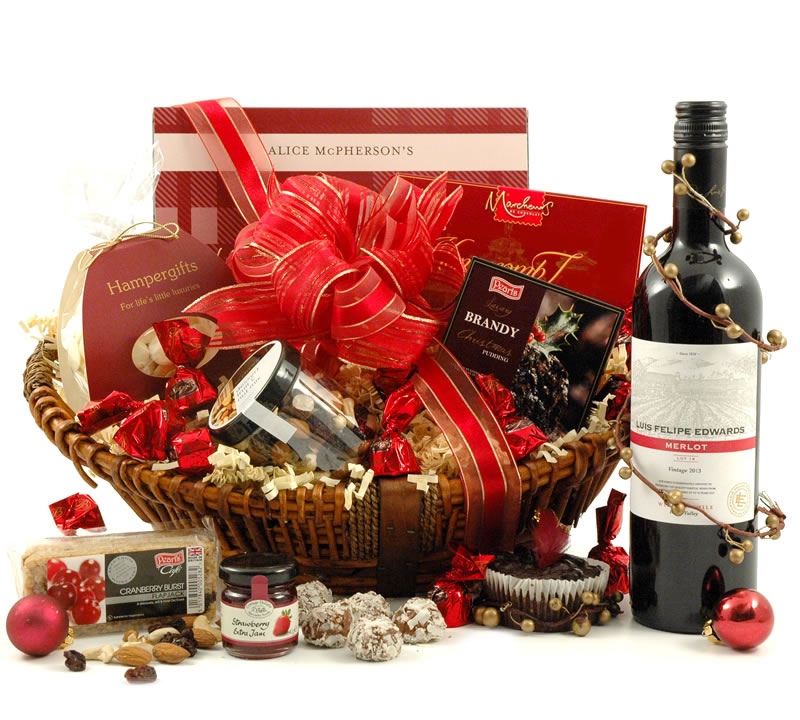 A sweet themed hamper with a fiery heart, our Deluxe Christmas Ruby is full of tasty delights for the lucky recipient. One of our most popular Christmas hampers, its filled with a combination of award winning and luxury items. Nestled in the middle of chocolate covered brazils, shortbread, fruitcake and more, is the Chilean Merlot. This red has a deep, fruity flavour that perfectly compliments the other items in the basket. The big red ribbon will add an extra merry to their Christmas. Buy it here.
Seven layers of emerald coloured boxes contain a host of Christmas treats. Our Christmas Treats Tower stands at an impressive 45 cm tall and is one of our best selling Christmas hampers.  The lucky recipient can dig into tasty delights like award winning Italian creams, hazelnut pralines, cookies and much much more. They will love opening each beautiful box to discover an array of specially selected items for them to enjoy. Buy it here today.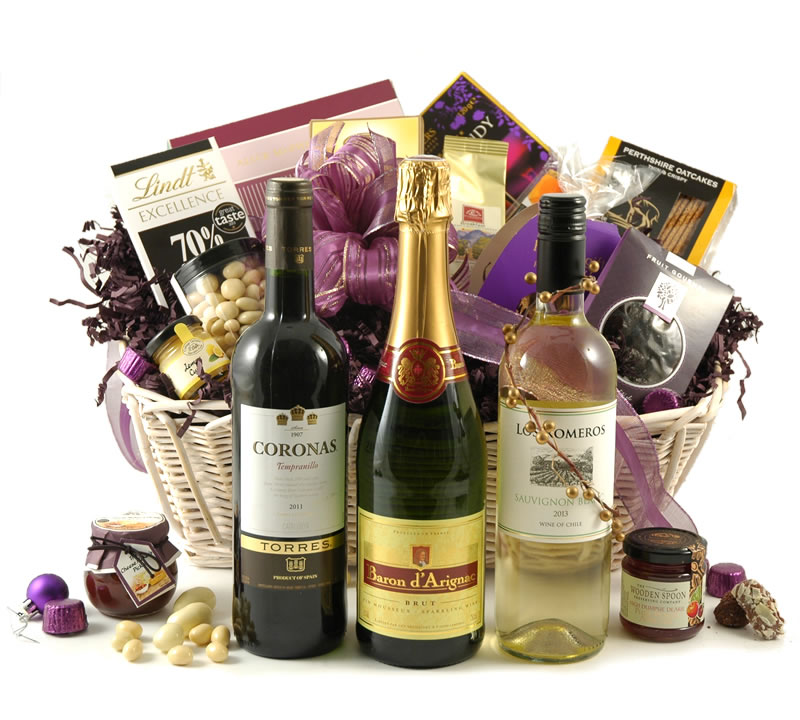 This Christmas trio will add some extra sparkle to somebodies Christmas. Nestled inside a beautiful white basket are three fine wines, surrounded by an array of seasonal treats. The lucky recipient will adore the oak matured Tempranillo, the fresh Chilean sauvignon blanc and last but least, the sparkling white wine from the south of France. This festive combination is complimented by a treasure of sweet and savoury foods. You can purchase it here.