We totally understand why you're looking for great last-minute Valentine's Day gift hampers. We'd feel a mild sense of panic too if we'd left it late. But not to worry. If you order by 11 am, we'll give you inclusive next day delivery. And we're sure your partner will love any one of these fabulous treats curated from our bestseller's list
You can't go wrong with this bubbly gift set for him or her. They're sure to love the Lanson Black Label Champagne which won a Silver Medal at the International Wine Challenge in 2007. And it pairs so well with the many treats in the basket including Duc d'O Belgian Chocolate Flaked Truffles, Cottage Delight Duck, Pepper & Olive Pâté, Olives Et Al Kiln Roasted Cajun Spiced Nuts, Odysea Alexandria Olives in Extra Virgin Olive Oil and the lush Italian Crostini Dipping Crackers with Rosemary flavour.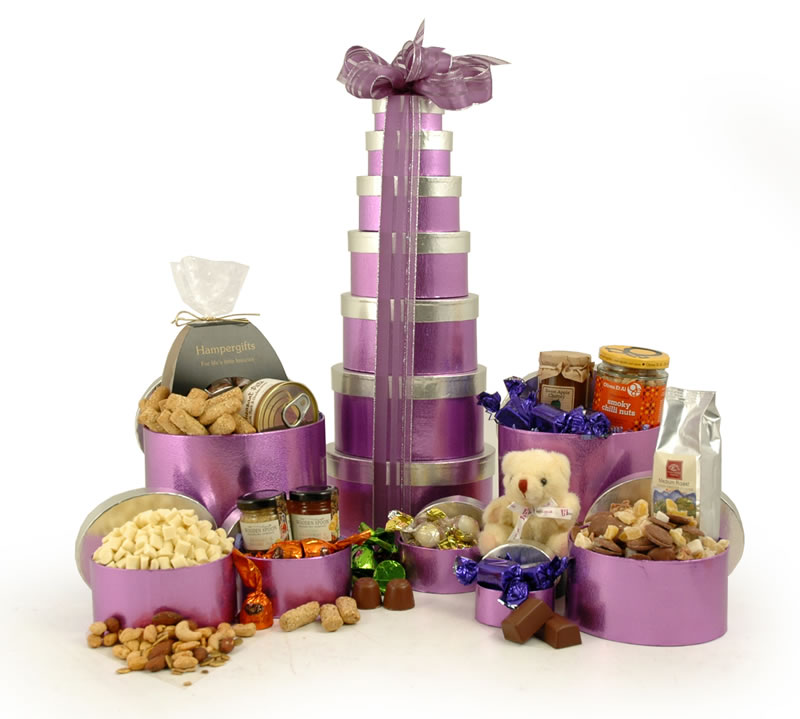 Now on sale, this savoury and sweet collection is rammed to the gills full of tasty treats. Sample Olive & Oregano Savoury Mini Breadsticks, Buchanan's Russian Caramels or Chocolate Dipped Fudge, Belgian Hazelnut Praline Pieces and more. Wash it all down with Edinburgh Tea & Coffee Co. Medium Roast Coffee. Each of the seven oval purple boxes with glistening metallic lids is a delight to open and discover.
Simple, compact and delightful. The Baileys Gift Basket is centred on Baileys Irish Cream Liqueur, the double gold medal awards winning liquor at The San Francisco World Spirits Competition in 2011. To pair perfectly, they'll enjoy Baronie Belgian White & Milk Chocolate Sticks with Mocha Coffee Filling, Sicilian Lemon Butter Cookies and Buchanan's Chocolate Coated Caramels. Together, it's a decadent treat for any Bailey's lover that also says "I love you too."
Botanical gin lovers rejoice! This great last-minute Valentine's Day gift hamper is richly appointed in an antique basket with handles. The showstopping Bareksten Botanical Gin, another double gold award winner at the San Francisco World Spirit Competition, is served with two options of tonic: Fever-Tree Naturally Light or Mediterranean Tonic Water. Then it's thoughtfully paired with sumptuous treats like the I Love Snacks Smoked Almonds, Buttermilk Crunchy Peanut Brittle, Joe & Seph's Gin & Tonic Gourmet Popcorn, Baronie Belgian Chocolate Vanilla Crisp Pieces and more.
Finally, we're showcasing The Continental Hamper. A rich assortment of continental foods in a whitewash wicker basket tied with an elegant ribbon. Treats in this carefully-sourced basket include Cottage Delight Italian Crostini Dipping Crackers with Extra Virgin Olive Oil, I Love Snacks Smoked Almonds, Dry Roasted & Salted Peanuts, The Wooden Spoon Spicy Tomato Chutney, Rustichella Fusili Pasta, Olive & Sesame Mini Breadsticks and more. Select from these fine foods to complement your evenings while you indulge in the Edinburgh Tea & Coffee Co. Fresh Ground Breakfast Coffee each morning.

Didn't find exactly what you were looking for? Check out our list of unusual Valentine's Day date ideas or shop valentine's day hampers specifically for her.