If you're looking for that special gift to wow her and share how much she means to you, we think a hamper is perfect. We've collected our favourite range of 6 Valentine's Day gift hampers she'll love from our massive stock to share in this 5-minute gift guide.
The Ruby Red Wine Hamper
An affordable entry at just £45, The Ruby Red Wine Hamper is a true luxury all wrapped up in a hand-tied bow. The Luis Felipe Edwards Lot 18 Merlot from Chile is complemented by Elizabeth Shaw Raisin & Cocoa Biscuits, Brown Bag Crisps, Buchanan's Chocolate Coated Caramels, Joe & Seph's Cosmopolitan Popcorn and much more. Pop the cork and snuggle in front of the fireplace for a Valentine's Day at home you'll remember for years.
Tanqueray No. 10 Hamper
The Tanqueray No. 10 Hamper is a gin-lovers dream in green and creme. Pair this smooth gin offering with Fever-Tree Elderflower Tonic Water and nibble on Willies Cacao El Blanco – Sublime Creamy White Chocolate with Natural Cocoa Butter, Sicilian Lemon Butter Cookies or Baronie Belgian Milk Chocolate Hazelnut Praline Pieces for a crisp pre-dinner delight.
Bathtime Pamper Hamper
Mix it up with the Bathtime Pamper Hamper for a night of indulgence that's all about her. Full of goodies, this hamper boasts a luscious Pomegranate Soy Candle Pot, Sisal Exfoliating Back Scrub, Japanese Konjac Sponge, Elizabeth Shaw Raisin & Hazelnut Biscuits, Wild Peony Square Bath Fizzer and Lavender Body Cream, Hand Cream and Shower Gel in a reusable basket.
Sparkling Surprise
Codorniu Brut NV from Spain combines with Duc d'O Belgian Chocolate Flaked Truffles, Olive & Sesame Savoury Mini Breadsticks, Lindt Lindor Milk Chocolate Cornet Truffles, Captain Tiptoes Dry Roasted Peanuts and more for a delightful Sparkling Surprise. Festively wrapped, this gift hamper makes an attractive centrepiece for your Valentine's Day gifting.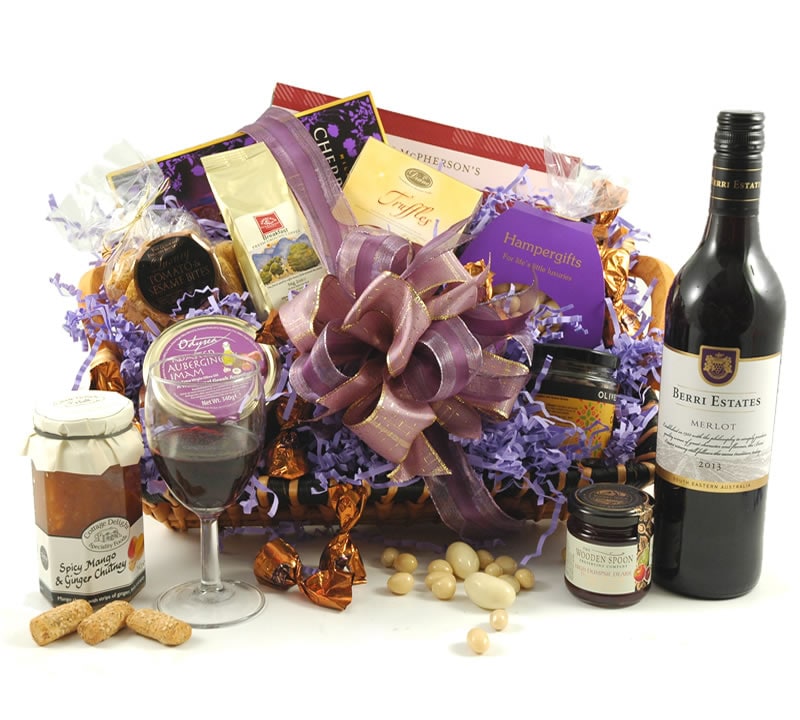 The Amethyst
Not your traditional Valentine's Day colour palette, The Amethyst offers royale indulgence at only £65. The Berri Estates Merlot from South-Eastern Australia pairs well with the Duc d'O Milk / Dark Chocolate Flaked Truffles, Olives Et Al Cumin & Coriander Olives, Walkers Milk Chocolate Turkish Delights, Cottage Delight Cheese Makers Pickle, Olive & Sesame Savoury Mini Breadsticks and other fine treats. Plus the basket is fully reusable for general storage long after the last sweetie has been eaten.
Pol Roger Champagne Hamper
When it simply must be bubbly, choose our Pol Roger Champagne Hamper. The preferred champers of Winston Churchill, this basket contains Pol Roger, Brut Réserve NV Champagne along with Lindt Lindor Assorted Cornet Truffles, Olives Et Al Kiln Roasted Harissa Nuts, Grandma Wilds Butterscotch Biscuits and Baronie Belgian Chocolate Caramel Pralines for a mix of salty and sweet she'll love in a reusable seagrass basket tied with a premium gold bow.

---
Not seeing the perfect gift in this list? Talk to our helpful team. They're experts at matching hampers to homes all across the country with nationwide delivery and fast shipping UK-wide. Reach out to them via email or phone on our contact page here.