Are you struggling to find your mum something special this Mother's Day? There's plenty of inspiration out there from craft projects you can make yourself to books that mums are sure to love. Here's our round up of some of the best gifts you can get your mum this year.
Handmade Mother's Day gifts
Looking to make a personalised pressie that your mum is sure to remember you by? Why not try making a lovely button necklace? It won't take you more than half an hour and you won't break the bank with the simple supplies needed. Check out this handy tutorial on How Does She for a step-by-step guide.
If your mum takes her sweet tooth quite seriously, then a batch of freshly baked cupcakes will not go unappreciated. Make sure you lay out the breakfast table beautifully with flowers and her favourite china. Ice a special message on the cupcakes for that really personal touch.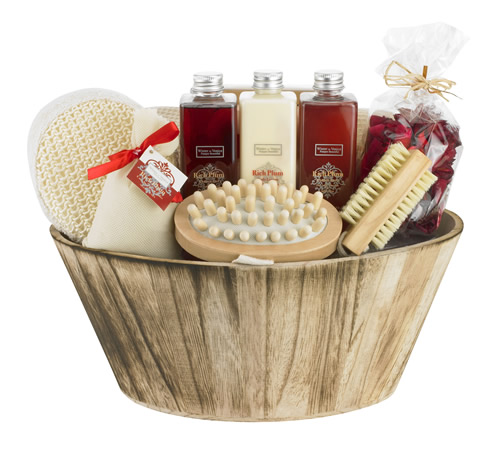 If you're stuck for time but still want to get mum something special, try one of our special Mother's Day hampers. We've got a tempting selection of gift baskets that include fine food, wine and bath and beauty products that make perfect pampering gifts for any mum.
There's nothing like a fresh bunch of carnations or lilies to make mum light up on her special day. If your mum loves her fresh blooms, you could try presenting them in unusual ways for greater visual impact. To make a real impression, why not arrange a fresh bunch of sunflowers in a pair of bright blue wellie boots? Or for a more sophisticated effect, try placing roses in individual glass tumblers and then arranging them on a tray with a chilled bottle of mum's favourite wine.
There's no job quite as challenging as that of a new mum's. If you're keen to help out the new mum in your life, consider getting her a selection of guide books that will help her negotiate the busy and demanding world of motherhood. The Mum's Pocket Bible: Everything a Brilliant Mother Needs to Know by Hannah Doran is a great collection of trivia for all mums. It's full of helpful advice right from how to get rid of wine stains on the sofa, to ideas for keeping kids busy on a rainy day.
* Flowers and cupcake image courtesy of Gabriel Li.
[/tdcta]
Rich Plum Oval Bowl
The perfect pamper hamper for mum.